BONAIRE DIVERS PARADISE
Bonaire is famous for it's scuba diving and with reason, you'll find breathtaking Coral and many species of fish. Bellevue has it's own private sandy beach which is an ideal entry and exit for divers and snorkelers, the magnificent reef drop off is 75 yards off shore approximately 35 feet of clear water. This is not a "marked"dive site, consequently it receives much less dive trafic than any of the public sites with moorings. Additionally Belmar, a full-service dive operation, is located a mere 300 yards away, a 30 second car ride.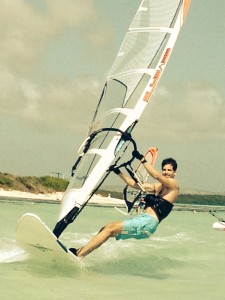 For windsurfing beautiful Lac Bay is ideal to learn and windsurf alongside world
champions, the flat shallow water of Lac Bay, provides a fantastic training ground for freestyle, it's great for blasting and safe for children and beginners.
 Many people you meet on the beach keep coming back.
Kite surfing is on Atlantis beach on the other side of the Island, with a Kiteboarding school providing instruction, it's equipment and a rescue boat. (www.kiteboardingbonaire.com)
Cycling is becoming more and more popular with tours into the Kunuke (outback) and around the Island.
The Mangrove info and Kayak Centre (www.mangrovecenter.com) offer kayaking and snorkel trips through the Mangroves. The mangrove forest of Lac Bay is one of the best preserved mangrove forest in the Caribbean.
Various Sailing Charter operators can be found on the Island. Boanire offers excellent deep sea and light tackle fishing and is rated as one of the best bonefishing destinations in the world.
Washington Slagbaai National Park is a nature sanctuary at the northern end of Boanire. It makes for a great day out, but you need a 4-wheel drive vehicle because of the rugged terrain. There are dive and snorkel sites and plenty of places to picnic along the way, beautiful beaches you'll find as well. If you're into hiking then you might like to try a walk up Brandaris Hill (241 meters / 784 feet) the highest point on Bonaire. The round-trip takes about 2 or 3 hours, the trail is well marked and easy to follow. From the top you get a great view of the Island and on a clear day you might be able to see Curacao and Venezuela.
Another worthwhile expedition is to Klein Bonaire, a nature reserve of around 1500 acres where turtles nest (www.bonaireturtles.org).It's great for snorkeling and picnics, though you might need to take some shade with you, You can get there by water taxi or rent a boat.
The Salt Pans and Slave Huts provide a great photo oppotunity and the Pekelmeer is a pretty drive and one of the most important breeding grounds for the Southern Caribbean Flamingo's (approx. 6500)